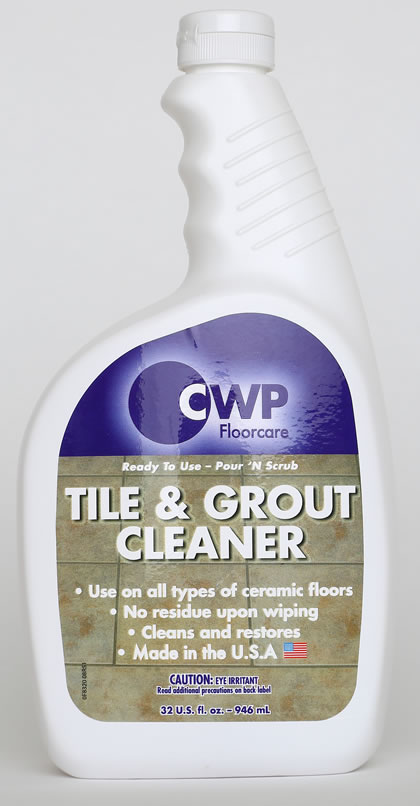 Tile & Grout Cleaner
As part of the Ceramic Tile Floor Cleaning Solution Center, CWP's Tile & Grout Cleaner is the companion to the Tile Diamond tool. This heavy duty cleaner is a waterborne product that can be used on all types of ceramic floor surfaces. Combined with the Tile Diamond floor cleaning tool, your customers' floors will be transformed to their original clean shine. This ready-to-use product addresses the fastest growing floor market in America - Ceramic Tile Floors.
Advanced cleaning chemistry that restores the look of both tile and grout when using the Tile Diamond tool.
Leaves no residue upon wiping excess liquid with our Microfiber Floor Cleaning Towel and no rinsing is required.
For use on all types of ceramic floor surfaces and is available in two convenient sizes - 32 oz. pour spout and 64 oz. refills.
One 32 oz. bottle cleans 200 square feet and will not harm adjoining wood or carpeted areas.
Industry exclusive technology that is only available to your customers.
Consumers save money and see great results versus paying a professional cleaning company.
---
Ingredients:
Water, Urea monohydrochloride, Quaternary Coco Alkylamine Ethoxylate, Magnesium nitrate
How to Read Date Code:
How to translate the Lot Code into the Manufacturing Date:
"A(Y)(DDD)"

A, B, (…) = 1st batch passed that day, 2nd batch passed that day, (…)
(Y) = Last digit of the year cleaning solution passed
(DDD) = Julien date of day cleaning solution passed

I.E. A0001 would be the first batch passed on the date 1/1/2020