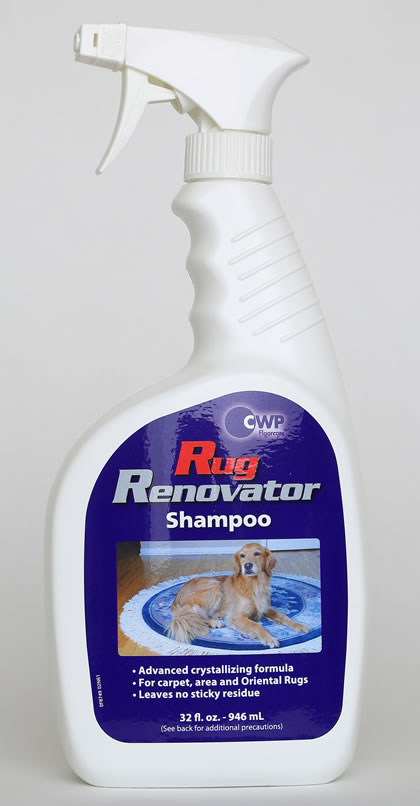 Rug Renovator Shampoo
When combined with the Rug Renovator tool, CWP's Rug Renovator Shampoo will make stains, soil and dirt disappear. You can make your carpeting look like new without ever having to bend over and scrub or blot those problem floor areas again. You can erase traffic patterns, remove stains and revitalize your carpet all with this one product. The secret is in the advanced crystallizing (encapsulating) chemistry which professional carpet cleaners currently use. It can be used as a spot remover or to clean an entire area rug. Just vacuum the affected area when dry upon application of the shampoo; it's that easy!
Advanced encapsulating cleaning formula that the pro's use for cleaning and spot removal, gives your customers confidence in performance.
Safe to use on all area, throw, sectional and Oriental Rugs, as well as carpeted areas.
Leaves no sticky residue which guarantees no re-soiling and keeps your carpet looking cleaner longer.
Great for homes with pets who like to lay in one area or on area rugs which get dirty quicker than other areas.
Save time and money versus having your problem areas cleaned by a professional carpet cleaner.
---
Ingredients:
Water, Ammonium Lauryl Sulfate, Acrylates/Ammonium Methacrylate Copolymer, Citric Acid, Tetrasodium iminodisuccinate, Methylisothiazolinone, Benzisothiazolinone
How to Read Date Code:
How to translate the Lot Code into the Manufacturing Date:
"A(Y)(DDD)"

A, B, (…) = 1st batch passed that day, 2nd batch passed that day, (…)
(Y) = Last digit of the year cleaning solution passed
(DDD) = Julien date of day cleaning solution passed

I.E. A0001 would be the first batch passed on the date 1/1/2020